Welcome to the
Sierra Foothills Cycling Club Website !!!
Welcome to our website and cycling club. Club membership is open to all! Whether you're a racer, recreation rider, or just starting out, the Sierra Foothills Cycling Club wants you! Get to know more about our club in our FAQ, or drop us a line from our contacts list.
Our Mission
Our club's mission is to share our passion for bicycle riding through organized events, including a variety of weekly rides designed for both novice and experienced bicyclists of all ages.
Our Rides
Our group bike rides traverse the beautiful foothills of the Sierras in and around the city of Auburn. For more information about our rides visit: ride info. Or, to see what rides our club currently offers, check out our ride calendar. Join us to explore the area while having fun, getting fit, and meeting fellow cyclists.
---
Click here to Login
Calendar Events at a Glance
Previous 14 days
Today
Next 14 days
Thursday Rides Thu, Apr 27, 8:30am
0 comments
Fast Friday Fri, Apr 28, 9:00am
0 comments
Spintacular Saturday Sat, Apr 29, 8:30am
0 comments
Loomis Lincoln 40 Sun, Apr 30, 8:30am
0 comments
Cycling 102 Sun, Apr 30, 9:00am
0 comments
MIBM Kickoff Ride Mon, May 1, 8:30am
0 comments
Larry's Loop - Tuesday Ride Tue, May 2, 8:30am
0 comments
Wednesday Rides Wed, May 3, 8:30am
0 comments
Thursday Rides Thu, May 4, 8:30am
0 comments
Fast Friday Fri, May 5, 8:30am
0 comments
Spintacular Saturday Sat, May 6, 8:30am
0 comments
Barbara Crowell Memorial Ride Sun, May 7, 8:00am
0 comments
Ray's Romp - Tuesday Ride Tue, May 9, 8:30am
0 comments
Iowa Hill/Bear River Wed, May 10, 8:30am
0 comments
---
Which one of the following is definitely NOT a road cycling myth?
0 commentsClick to post comment on this
---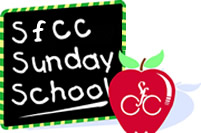 Sunday
Cycling School
Where: Various - check calendar
When: Sundays - check calendar

The Cycling Education Committee(CEC) offers a series of rides on Sundays to promote cycling knowledge, skills and safety.  These are "no-drop" rides especially intended for riders wishing to learn about cycling as well as wanting to develop their cycling skills and fitness.  They are social rides, generally at the pace of the slowest rider, and have a "sweep" so no one gets dropped. Routes are usually in the range of 15 to 20 miles and not too hilly. All have a short pre-ride clinic about cycling. The names of these rides and ride leaders are:
Cycling 100: Ted Herr
Cycling 101: Rudy Dressendorfer
Cycling 102: Ed O'Connell
Please check the calendar for dates and details.
Please RSVP by sending an Email to: ride101@sfcyclists.org
and indicate which ride you plan to attend.



5 commentsClick to post comment on this
---
Hikers Wanted
Many SFCC'ers have signed up to join the Sierra Foothills Hiking Group for added cross training, fitness, and fun. This newly formed group invites anyone who enjoys group hiking along the many great trails in the Auburn area. You do not have to be an SFCC member to join.
The hikes are in the 3 - 7 mile range and typically take place in the afternoon (after morning bike rides). Hike announcements are made via an email group and private Facebook page. If you would like to be added to one or both, please contact Kathy Welch at hikers@sfcyclists.org.
---
A Special Thanks to our Supporters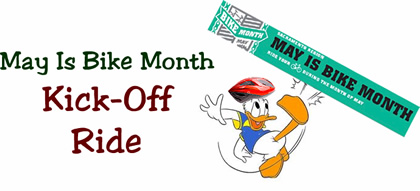 Where: The Flower Farm (map)
When: Monday, May 1st, 8:30 am

Kathy Welch is leading a May Is Bike Month kick-off ride at the Flower Farm Cafe & Nursery on Auburn Folsom Rd.
This is an all-club ride, the pace is casual.  Everyone is encouraged to come ride…the distances are 20.8 and 23.8 miles.  The shorter ride skips the climb into and the tour of Sterling Pointe towards the end of the ride.
https://ridewithgps.com/routes/20098069
Afterwards, there will be a couple of laptops available to log your miles and earn a badge!  If you are a slacker and have not even registered for MIBM, you can do that first, then log your miles and earn a badge!  Of course there will be calories, caffeine, and conversation to round out your post-ride experience.
---
Barbara Lane Crowell
Memorial Ride
Where: Meadow Vista Park (map)
When: Sunday, May 7th
Long ride - 8:00 am
Short Ride - 9:30 am
Potluck and BBQ:  12:00-1:30 p.m.

Please join us for our third annual remembrance ride for Barbara Crowell, an SFCC avid cyclist who was tragically killed riding near the Foresthill Bridge. This year we will be collecting donations for Placer County Search and Rescue in memory of Barbara. The club will match your donation up to $250! As always, guests are welcome; please sign in and sign a waiver before the ride.
What to bring? An appetizer (last name A-I), salad (J-R), or dessert (S-Z). The club will supply the sodas, water, hamburgers, hotdogs, and fixins. Search and Rescue members will grill the 'dogs and burgers!
Please note: No alcohol or glass containers are allowed at the park under the terms of our permit.
Please RSVP to Katherine Thompson at vp@sfcyclists.org by May 4th and specify hamburger, hotdog, or veggie burger so we have the right amount of food and drinks.
Donations to Placer County Search and Rescue, in memory of Barbara, can be made at the event or mailed to SFCC, P.O. Box 3124, Auburn, CA , 95604. Please make your check out to Placer County Search and Rescue. Checks or cash will be accepted at the event.

Placer County Search and Rescue is a registered non-profit made up of volunteers. It relies solely on donations and support from the community for its continued operations. Your generous contributions will go toward items such as equipment, maintenance, training, and support that allow SAR to be an invaluable service to the community.
Long Route - 42 miles, 3520 ft. of climbing - RideWithGPS# 12952393
Short Route - 22 miles, 1790 ft. of climbing - RideWithGPS# 12602834
---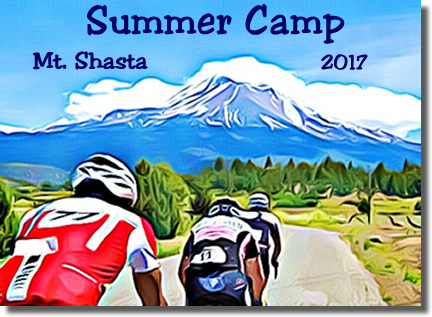 When: Friday, June 23rd to Tuesday, June 27th (4 nights)
Members...Summer Camp will be in Mt. Shasta City this coming year! We will be based at the Mt. Shasta KOA The facility has RV camping (both full hookups and water/elec sites), tent camping, and kamping kabins. The closest motel to the KOA (2 blocks away) is the Cold Creek Inn.
Plan on three days of cycling and at least one hike. Our cycling routes will be mostly the Mt. Shasta Super Century 135 miler spread across three days. This is the McCloud River Falls Trail hike.
I will be working on the routes in the coming weeks, and although the super century is quite 'hilly', I will do my best to find appropriate routes for those of you who prefer flatter terrain.
And of course there is much more to do in Mt. Shasta than ride a bike, and I'll also be detailing some of those activities in future emails.
Mark your calendars, make your reservations, and stay tuned!

Kathy Welch, Summer Camp Coordinator SFCC

0 commentsClick to post comment on this
---
The Voler ordering web is site set to go: http://www.voler.com/custom/ordering/li/16367 You can order your your SFCC Jersey, shorts, etc. from this site and it will be delivered to your home. We are not waiting for a specific date for batch orders.
Please direct questions about the jersey or other club merchandise to Ken Wilson (merchandise@sfcyclists.org).